Outdoor Summer Services Are Back!
Outdoor Summer Services Are Back!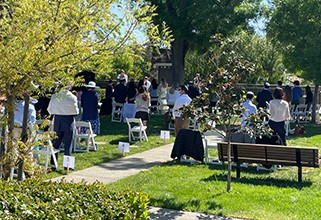 We're thrilled to welcome the congregation back to Beth Am for Kabbalat Shabbat services at 6:15 PM in our beautiful Outdoor Chapel* beginning this July. As is the Beth Am tradition, the divrei Torah will be given by Beth Am members or invited guests.

No registration is required to attend Shabbat services in the Outdoor Chapel.
Please note that events on campus will start on time. If you want to schmooze, please plan to arrive early. For any outdoor programming, please be sure to bring your own water bottle, sunscreen and hat, as needed. Masks are required for those who are unvaccinated. If you are on the Beth Am campus without a mask, you are attesting to the fact that you are fully vaccinated. If you are not feeling well, please stay home and join the service by livestream. Food will not be served. (These policies may evolve over time.)
Friday evening services will continue to be live streamed on our website at betham.org/streaming and on our Facebook and YouTube channels.
July Speakers
July 2 - Rabbi Alonah Nir Keren of Kehilat Mevasseret Zion
July 9 - Adi Horn
July 16 - Deb Radin
July 23 - Nancy Cavillones
July 30 - Donnovan Yisrael
August Speakers
August 6 - Jeff Carmel
August 13 - Joel Orr
August 20 - Representative of Beth Am Women
August 27 - TBA
*These services will be live video streamed. By entering the Outdoor Chapel, you give Beth Am permission to record you.
Fri, October 22 2021
16 Cheshvan 5782
Fri, October 22 2021 16 Cheshvan 5782