Maroussia Brys — Recognizing and Responding to Others in Need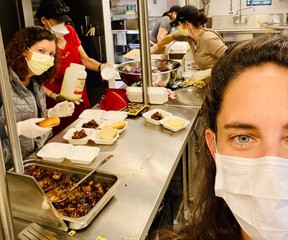 Written by Shelley Hebert; Nominated by Rabbi Janet Marder
Four years ago, when Maroussia Brys visited Beth Am for the first time soon after her arrival in this country, it reminded her of the Reform congregation she had been part of in Geneva, Switzerland. As she began a new job in Silicon Valley, she was looking for a Jewish community that would enhance her exploration of new horizons.
Maroussia already felt it was important to be involved in some type of volunteering. "It's the right thing to do," she said, adding, "It's who I am." So this spring as she watched news coverage of the effects of the COVID-19 pandemic spreading worldwide, she quickly realized that people here urgently need help too. As a resident of East Palo Alto, she saw long lines forming to receive donated food. In the midst of Bay Area affluence, and the assumption that anyone who really wanted to work could find a job, conditions were rapidly changing.
When Maroussia spoke to her grandmother who lives in France, she heard her express anxiety about shopping for food. As a granddaughter who is far away, she hoped that someone would be there to help her. Maroussia also decided that she wanted to be that person for others.
She quickly registered on Beth Am's "Need Help? Want to Help?" web page, which matches congregants wanting to assist others with those in need of support. Since then, she has become one of the congregation's active volunteers. She shops bi-weekly for a senior congregant and has provided transportation to a medical appointment for another. Through her involvement in The Orchard (Beth Am's young adult community), she has baked and sold challah to raise funds for Second Harvest Food Bank. The Orchard members also recently helped at a food distribution center providing hundreds of meals.
Seeing the appreciative smile of an elderly person living alone, the anxiety of parents who lack money to feed their children and the distress of those who have lost jobs through no fault of their own has had a significant affect on Maroussia. "We are social animals," she said. "We need each other."
Tue, January 26 2021 13 Sh'vat 5781