May 2022 Tzedakah Box
May Tzedakah Box: The Sir Charles Clore Jewish-Arab Community Centre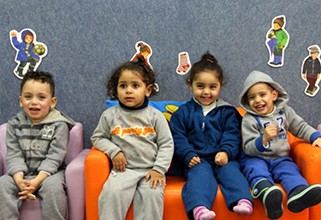 Beth Am's May Tzedakah Box supports The Sir Charles Clore Jewish-Arab Community Centre in Akko, Israel. Akko is one of the most diverse cities in all of Israel and The Centre's aim is to provide high-quality, low-cost activities for Akko's residents regardless of ethnicity or ability to pay. The Center provides opportunities for low income Israeli Jews and Arabs to come together to learn, meet and play, sowing the seeds of peace and improving the quality of life for all through shared endeavors and understanding. They endeavor to be the lifeblood of their mixed community while nurturing Akko's children to become responsible citizens of Israel. Many of the children that The Center cares for are from large, poor families and are vulnerable to the dangers of street life. They aim to help combat school drop-out by offering extra-curricular activities and programs. The Center also offer vital programs for women and a cultural club for pensioners from the Former Soviet Union. Learn more about the Centre.
A donation can be made:
@Beth-Am on Venmo
by check made payable to "Congregation Beth Am" mailed to the Administrative Office as follows:
Congregation Beth Am
Attn: Tzedakah Box — The Sir Charles Clore Centre
26790 Arastradero Road, Los Altos Hills, CA 94022
Thank you.

Sat, June 25 2022
26 Sivan 5782
Schedule
Thursday
Thu
,
1
Dec
December
,
2022
Thursday, Dec 1st 11:00p to 11:30p
Sat, June 25 2022 26 Sivan 5782