Facing Our Truths: Small Group Conversations on Race
Facing Our Truths: Small Group Conversations on Race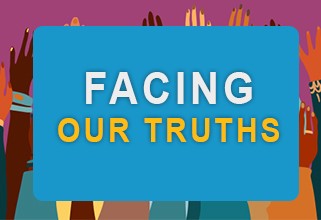 Beth Am's Racial Equity and Justice (REJ) committee will be convening discussion groups starting in January of 2022 using a format entitled Facing Our Truths: Small Group Conversations on Race, which was created by a team from Temple Emanu-El in Dallas, the clergy of Leo Baeck Temple in Los Angeles, CA, and Temple Isaiah in Lexington, MA.
The 6-session curriculum will cover a set of topics focused on diversity, equity and inclusion, including: white fragility, white supremacy, school to prison pipeline, the role of Jews and the Jewish community in challenging racism and other forms of oppression. Each session will be structured to include multiple ways of engaging in the topic (e.g. readings, videos, podcasts) and will have an explicit focus on perspectives from our Jewish tradition.
We are looking for Beth Am congregants to be trained as facilitators for this program, especially those who have prior experience with facilitation and a commitment to DEI (diversity, equity and inclusion) issues. Interested and qualified Beth Am congregants are invited to apply by contacting Donnovan Yisrael or Amy Gerstein by Monday, November 15.
Fri, December 3 2021
29 Kislev 5782
Fri, December 3 2021 29 Kislev 5782