May 2023 Tzedakah Box
May Tzedakah Box: Jordan River Village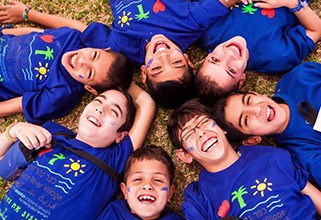 In May the Beth Am Tzedakah Box will support Jordan River Village whose mission is to support seriously ill children of all backgrounds from Israel and surrounding areas to reach beyond their medical conditions through free camp programs designed to foster fun, independence, resilience and personal growth.
Located in the Galilee, these campers represent the gamut of Israeli society — rich and poor, Jewish and Arab Israeli, Hebrew and Arabic speakers, religious and secular, as well as those whose diseases can be seen and those who look completely healthy. The Village was founded, in 2012, as an apolitical organization with a principle that ALL children deserve to experience childhood. As such, no child is ever turned away because of race, religion, ethnicity or socio-economic level.
In 2022, Jordan River Village provided free, inclusive, medically supported camp programs, on and off campus to more than 6,000 children living with serious illnesses and disabilities.
Learn more about the Jordan River Village.
A donation can be made:
@Beth-Am on Venmo
by check made payable to "Congregation Beth Am" mailed to the Administrative Office as follows:
Congregation Beth Am
Attn: Tzedakah Box — Jordan River Village
26790 Arastradero Road, Los Altos Hills, CA 94022
Thank you.

Sun, June 4 2023 15 Sivan 5783